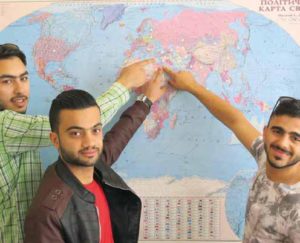 Today near 1,5% of general amount of foreign citizens in the world get higher education in Ukraine. In 2015– 2016 about 64 thousands of foreign students studied in Ukrainian universities, institutes and academies. But according to experts, Ukraine has great capacity in this sphere.
ADVANTAGES
Education in National Aviation University gives foreign students a diversity of advantages. Firstly, the university is well-known all over the world like one which carries out complex preparation of aviation specialists. A potential student can choose any speciality of aviation aspiration – from pilots and operators of pilotless aircrafts to the specialists, who provide service of airplanes and surface technique of airports. In favor of studing here talks the circumstance that in 2003 to ensure high level of educational and training activities in the spheres of aviation security, flight safety and aircraft airworthiness in accordance with ICAO regulations the ICAO Institute was created at the National Aviation University. Today it consists of European Regional Aviation Security Training Centre, European Regional Government Safety Inspectors Training Centre, ICAO Academic Department, National Training Centres and Avi- ation English Training Centre.
Secondly, National Aviation University has impressive history: foreign students has already been studying here for more than 50 years! And during its' almost 85 year long history thousands of specialists from 140 countries of the world got higher education within National Aviation University.
Thirdly, National Aviation University gives students an opportunity to get not only basic higher education, but the second one. Besides, lately the interest of foreign students to computer, humanitarian, economic and law specialties has grown.
National Aviation University is located in one of the most beautiful European capitals. University campus combines on its territory the whole university infrastructure: educational corps, labo- ratories, centers, trainer complexes, educational hangarages, library, Center of culture and arts, dormitories, student canteen and others like that.
ASSIMILATION
Foreign students easily assimilate in Ukraine. For example, some of them prefer studying in ordinary groups with their Ukrainian contemporaries instead of special groups for foreigners. Due to this, they can learn better Ukrainian language and youth culture in general. In addition, they have an opportunity to enrich their knowledge about authentic Ukrainian traditions. For many years Andriyivski Vechornytsi, holiday of Shrovetide and visits to cultural and historical sights of Kyiv and Ukraine has become a good tradition.
Besides, foreign students introduce their own national flavor to the university life. With the support of Centre of International Education they founded festivals "Cuisine of Peoples of the World" and "New Year Walks on Planet". So, everyone in university can learn more about culture of different countries.
Of course, foreign students are fullfledged members of student community of the National Aviation University. They take part in students' festivals "Bereznevi Parostky" and "Studvesna", different sport competitions and even create their own events. For example, since 2012 Small World Footroom Championship has been carrying out in National Aviation University. There are also national teams of different sports, which present the university both in Ukraine and abroad.
PROSPECTS
The diploma of the National Aviation University gives the graduates an opportunity to get good job in their countries. It's so, because except of highquality education they get knowledge of at least two more languages.
Besides, many foreign graduates connect their lives with Ukraine. Most of them stay here and work as representatives of international airlines in Ukraine. And some of them even obtain citizenship and settle here forever.